The last? A $500m unlisted fund – known as HMC Capital Partners – that has already taken a 14% stake in pharmacy wholesaler Sigma, an asset that is expected to be at the center of further industry consolidation after Wesfarmers bought out rival API.
This new fund, which targets investments in "real assets", that is to say physical, is added to the HMC stable. This includes the original HomeCo, now with a $1.5 billion market cap, the $2.8 billion listed stablemate HomeCo Daily Needs REIT, and the $563 million HealthCo Healthcare and Wellness REIT.
Most of HomeCo's initial investors back the latter group, either through exposure to HMC Capital or as co-investors. Among them are Chemist Warehouse co-founders Mario Verrocchi and Jack Gance, sparking plenty of talk about how this could play into any Sigma deal. But more on that later.
Has a private equity type fund always been planned?
"Things are changing. Potentially," Di Pilla says after a thoughtful pause, sitting in the new office in the Gateway building in Sydney's CBD, where the walls are lined with First Nations art and photos of HomeCo sites.
HMC moved into the building, leaving behind its Double Bay offices. It employs 100 people in the investment team and a hundred more in operations.
Each meeting room is named after an Italian city, in keeping with Di Pilla's habit of granting code names. Right now there are more rooms than there have been transactions, but that's just a matter of timing. Acquisitions and financial structuring were the hallmarks of building this business.
And whatever the initial plan, it's a safe bet that it was always ambitious.
Di Pilla said he wants HMC Capital's assets under management to be $5 billion by the end of fiscal 2022 and $10 billion by the end of next year, a objective which seems more difficult in a rising interest rate environment and as two of the group's funds are trading slightly below their net asset value.
"The free money ride in real estate is over, with low returns having to be justified by rising rents," says Sholto Maconochie, Jefferies real estate industry analyst. It has a "hold" recommendation on HMC Capital. Morgan Stanley, which advises on the latest fundraising, issued a "buy" recommendation this week.
But ask Di Pilla what the higher interest rate environment means for the target and he's "very confident" of hitting it.
"Look at the team's track record and what we've achieved in just over two years since signing up. Achieving that goal is just a deal away," he says.
Try to meet a market need
"Our competitive advantage lies in executing large and complex transactions and the dislocation of markets caused by rising interest rates creates very attractive opportunities, particularly in listed companies exposed to high quality real assets."
When asked if there is more to come from the rapidly growing HMC Group, he points to public statements that focus on infrastructure, credit and ultimately real assets.
For now, the unlisted fund can access most of that.
"We're trying to fill a market need right now," he says of the fund, noting that in 2000 only 5% of investable capital was in unlisted assets; now it's 60 percent.
"The reality is that assets like Sydney Airport, Crown … have been taken into the hands of institutional capital both domestic and foreign. And they will never come back on the market. You will never have the opportunity to invest in these assets again. So this vehicle … gives investors the opportunity to play in an unlisted way and invest and stay invested in some of Australia's best real assets.
The new fund will have its private assets independently assessed twice a year, although Di Pilla does not want to weigh in on the broader debate over the assessments used by pension funds for private assets.
Noting that private markets tend to lag listed valuations around six to 12 months, he says valuations are "catching up" with listed markets and potential assets could appear in the sector.
"If asset values ​​contract and borrowing costs rise, there could be opportunities that we believe could emerge in the unlisted market at some point as unlisted structures come under pressure." , he said.
Victoria Hardie, another former UBS banker who joined as managing director at HMC Capital Partners, also recognizes the fund's opportunities.
"Not just a bunch of bankers using spreadsheets"
She says the firm has benefited from the investment banking experience of some of its key people, although she admits there are many others who have experience in operations but no experience. in investment banking.
"It's not just a bunch of bankers using spreadsheets," says Hardie, adding that banking experience acts as "the foundation of investment decision-making.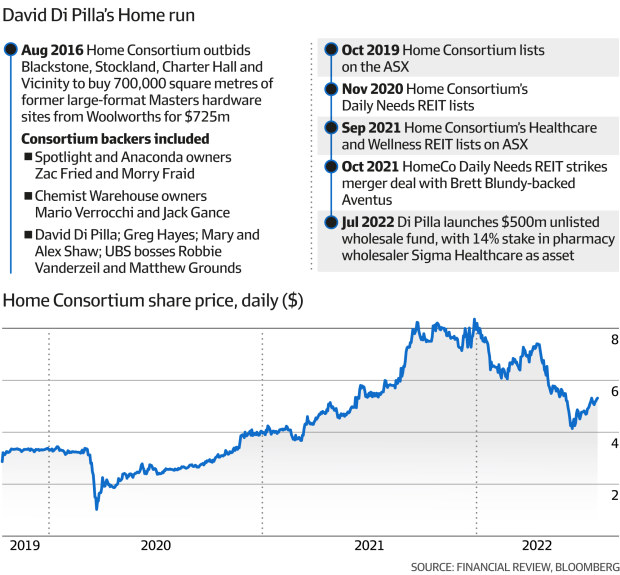 "I think part of the reason for the success is that we can be a bit creative with structures. That's where I think a lot of value will come – by thinking slightly outside the box or structuring slightly differently"
Returning to Sigma, the first asset in the new fund, Di Pilla sees a lot of upside in the investment and notes that 80% of the purchase price is effectively backed by tangible assets. He is also optimistic that the new chief executive will be able to use his experience in retail to boost his income, the prospect of unlocking property value on the group's balance sheet and using the new capabilities of distributing the business.
"Sigma has just completed a capital investment of more than $400 million in its distribution network and infrastructure capacity," it says, describing its infrastructure as "the best in the industry."
"Sigma has the ability to double its throughput with minimal additional investment. We make our investment based on the lowest earnings, with attractive upside potential in our base case. »
A frequent topic of market speculation is how having HMC as an investor – and with them the Gance and Verrocchi families of Chemist Warehouse – could position Sigma with big deals, including recouping a Chemist Warehouse contract it lost.
Di Pilla will not comment on whether families are directly invested in this vehicle, saying only that "they have been investors throughout the cycle. What you might infer is that we have links and connections there.
Ask to win the contract back, and Di Pilla is usually measured in his response.
"Given the investment they [Sigma] have done and the quality of the infrastructure, you have to think that they would be in a good position to bid on this and any other major contracts that exist in the industry in the years to come.
So far, HMC Capital is not seeking a board seat. "Board seats potentially limit flexibility, so we're open-minded about that," he said. And to push on a real estate spin-off or something? "We are open to it. We only see the value. So it's an option on the table, which can be done at some point.
And that's without more industry M&A.
"It is in a sector and an industry that can potentially consolidate in the future. We see this as an important player in this future industry consolidation," says Di Pilla.